Sustainable Value Creation
While delivering long-term value to our shareholders is our primary aim, we recognise that the choices we make will have an impact on the communities in which we carry out our business. To ensure that we leave a positive mark, we have adopted a Sustainability Policy that covers our principles in environmental and social issues.
Environmental Issues
When conducting our business, we will observe all relevant laws and regulations, with the aim of going beyond the minimum requirements. We will also focus on the global environmental agenda to strive to improve our overall environmental performance. We aim to mitigate climate change risks, reduce emissions and waste, improve energy efficiency, use recycle sources, and protect the natural environment.

Find more about our green footprint, please click here
Social Issues
Our people are our most important asset, and we are committed to build and promote a flexible, diverse, inclusive and open culture to attract and retain talented professionals. Outside the office, we strive to increase our community involvement through our charitable foundation - Sun Hung Kai & Co. Foundation.

Find more about this foundation please click here
Read our full 2021 ESG Report here :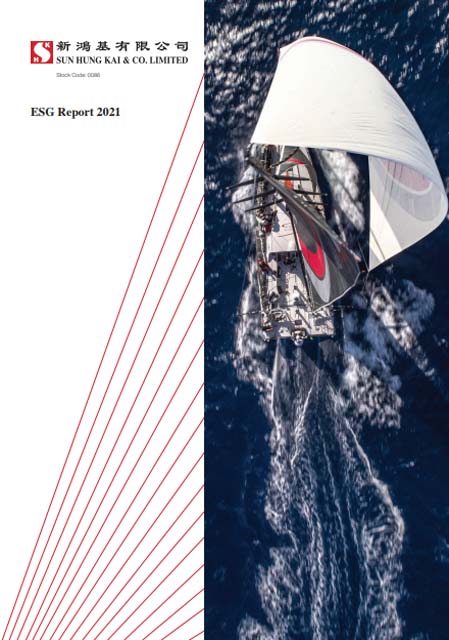 Governance
The Company is committed to maintaining a high standard of corporate governance, with an emphasis on the principles of integrity, transparency, accountability and equity. The Board of Directors believes that good corporate governance is essential to the success of the Company and to the enhancement of shareholder value.

Enhancing corporate governance is not simply a matter of applying and complying with the CG Code of the Hong Kong Stock Exchange, but about promoting and developing an ethical and healthy corporate culture. We will continue to review, and where appropriate, improve our current practices on the basis of our experience, regulatory changes and developments. Any views and suggestions from our shareholders to promote and improve our transparency are also welcome.


The Board Committees
Executive Committee
Lee Seng Huang (Chairman)
Simon Chow Wing Charn
Nomination Committee
Lee Seng Huang (Chairman)
Evan Au Yang Chi Chun
David Craig Bartlett
Alan Stephen Jones
Jacqueline Alee Leung
Remuneration Committee
Evan Au Yang Chi Chun (Chairman)
David Craig Bartlett
Alan Stephen Jones
Jacqueline Alee Leung
Audit Committee
Alan Stephen Jones (Chairman)
Evan Au Yang Chi Chun
David Craig Bartlett
Peter Anthony Curry
Jacqueline Alee Leung
Risk Management Committee
Wayne Robert Porritt (Chairman)
Simon Chow Wing Charn
Evan Au Yang Chi Chun
Vivian Alexa Kao
Brendan James McGraw
Lindsay Megan Wright
Alfred Leung Sai Kit
Compliance with Corporate Governance Code
Corporate Governance Documentation